JUDr. Otakar Motejl – Public Defender of Rights
* 10. 9. 1932 † 9. 5. 2010
First term of office from December 18, 2000 Second term of office from December 19, 2006
JUDr. Otakar Motejl was born on September 10, 1932, in Prague.
After he completed his law studies at Charles University in Prague (1955), JUDr. Otakar Motejl practised law in Banská Bystrica. From 1958 he was an attorney-at-law in Kladno and later in Prague. From 1966 to 1968 he concurrently worked as a researcher at the Institute of Law at the Ministry of Justice. FrFrom September 1968 he was a judge of the Supreme Court in Prague. He left the Supreme Court in 1970 and again practised law until January 1990. Among other things, JUDr. Otakar Motejl defended a number of dissidents, proponents of the unofficial culture and activists of independent movements in political trials.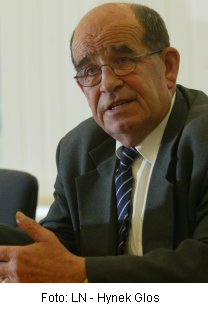 In December 1989 he was elected a member of the commission of the Federal Assembly for supervision over investigation of the events of November 17. From January 23, 1990, to December 31, 1992, he was Chief Justice of the Supreme Court of the Czech and Slovak Federal Republic, from February 25, 1993, to August 8, 1998, Chief Justice of the Supreme Court of the Czech Republic. From August 1998 to October 16, 2000, he was the Minister of Justice.
Since 1992 was the chairman of the Czechoslovak and later Czech Lawyers Association.
He was never a member of any political party or movement.
JUDr. Otakar Motejl died on May 9, 2010, in Prague.
Awards:
Human Rights Award from the American Bar Association awarded in 1991
Silver and Gold Medal of Antonín Randa awarded by the Czech Lawyers Association in 1995 and 2008
Ordre national de la Légion d'honneur, Commander, appointed by the President of the France in 2000
Lawyer of the Year title awarded in 2006 by the Czech Bar Association and EPRAVO.CZ, a.s.
Gold Cross of the Republic of Poland awarded in 2009 by the President of Poland for contributions to the protection of human rights and civil rights and freedoms.
Honorary Doctorate from Palacký University in Olomouc, awarded in 2009 for significant contributions to legal science and practice and for a life-long endeavour to maintain the principles of law, justice and democracy.
In 2009 elected by the Czech Bar Association and EPRAVO.CZ to the Law Hall of Fame for his life-long work and exceptional contributions to Czech law.
Activities:
Member of the Legislative Council of the Government (from 2000)
Member of the Administrative Board of Masaryk University, Brno
Member of the Scientific Council of the Faculty of Law of Charles University in Prague
Member of the Scientific Council of the Faculty of Law of the University of West Bohemia in Pilsen
Member of the Scientific Council of the Faculty of Law of Palacký University in Olomouc
Member of the steering committee of the Czech National Group of the International Association of Penal Law (Association Internationale de Droit Pénal, A.I.D.P.)
Chairman of the Czech Lawyers Association
Chairman of the Alliance Francaise in Brno
Chairman of the Arbitration Committee of the Czech Basketball Federation